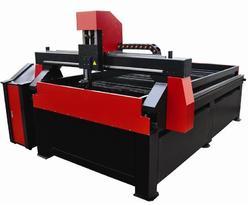 The full form of CNC is computer numeric control. It is a computer controlled cutting machine which is used for cutting different materials like wood, composites, plastics, foams, steel, and other metals. It uses Computer Aided Design (CAD) and Computer Aided Machining (CAM) to carry out various tasks and completes it with greater accuracy.

The CNC cutting machines have more automated control and help to save time and increase productivity. The machine plays a very influential role as it is used in a wide variety of industries. Many industries use CNC cutting machines for cutting raw-material and turning into final products. The cutting machines are much faster, safer and reliable to use in the long run. The machine works by operation of precise programmed commands encoded on a storage medium. The laser beams are used to cut materials with a high-quality finish. The laser technology can be used to cut flat-sheet material and structural as well as other piping materials.

The customers all over the world prefer CNC cutting machine over other machines due to their fabrication and manufacturing applications. It is a preferred machine due to the numerous financial and production advantages it offers over the other conventional machines.
The CNC machines provide multi-tasking capabilities to the user along with assured ease while handling the parts of the machines. Most of the turning centers provide versatile options of fast, powerful and precision centers so that you can get the best quality products.

APPLICATIONS
The different industries in which the machine is very commonly used are:
● Aerospace
● Agriculture
● Construction
● Transportation
● Metal Work
● Hospitality
● Firearms
● Medical
● Electronics
● Military
● Production

The machine is capable to cut different types of metal materials with high precision and excellent speed. The machine fault rate is very low and has a long working life. It consumes very less power and requires low maintenance. The different sheets which can be cut using CNC machine are silicone steel, stainless steel, galvanized steel sheet, and so on. The machine can be used to cut different materials in different sizes, which helps to create complex and intricate shapes

The CNC metal laser cutting machine suppliers play a vital role in making it available across the country. The machine is manufactured using high-quality raw-material and sourced from the authorized vendors only. All the machines are made in compliance with the international standards and the guidelines. Every unit passes through stringent quality checks in order to avoid any damage during transit. The machine is manufactured with the help of the latest technology so that advanced versions can be produced within the stipulated time period. These are known for their strong structure, noiseless operations, high output, long working life, reliability, and perfect finish. Although expensive, these machines are known to reduce the production cost per unit to a great extent.

Thus, it can be concluded that CNC metal laser cutting machine is irreplaceable and dealers dealing it with are earning huge revenues.
This entry was posted on June, 13, 2020 at 11 : 39 am and is filed under Machines. You can follow any responses to this entry through the RSS 2.0 feed. You can leave a response from your own site.