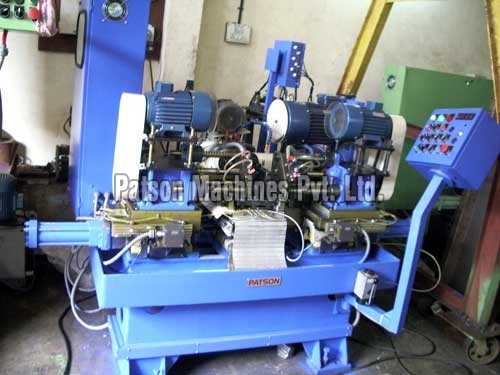 A grinding machine is an industrial tool that is used for cutting or grinding via an abrasive wheel. You may see different types of grinding tools according to their purpose.
Introduction:
The grinding machines can produce cylindrical, flat, and other forms of surfaces with the help of huge speed rotation of abrasive wheels. Grinding signifies the finishing skill of the part which was already manufactured in the industries. It is itself a process of machining as well. The main grinding machines are cylindrical machines for achieving cylindrical surfaces, surface grinding for achieving flat surfaces, etc.
For more complex purposes, contour grinding machines are also used. Pedestal and bench grinders are used in the industries for tool sharpening.
The grinder is an excellent cutting tool as we know its widespread usage for different kinds of work. The workpieces are given a suitable shape via chipping a small grain of abrasive from the wheel.
The workpieces must be of accurate finish depending on their dimension and shape with the quality surface. As the accuracy increases, it requires a sophisticated finish via the grinding tool in most of the applications.
In some rough applications, grinding tools show their diverse behaviour and cut huge volumes of material quite rapidly.
Overview:
The grinding machine is consisting of a bed and fixture for guiding and holding the workpiece. It has a power-driven wheel rotating at a huge speed. The speed is managed by manufacturer rating and the wheel's diameter.
The grinding can travel across the workpiece or sometimesthe workpiece can be movable with a fixed grinding head.
Drill Grinding Machine Manufacturers Maharashtra follow the abrasion process to remove any material and it would general huge amount of heat as well. Henceforth, grinding machines incorporate the coolant so that workpieces do not get overheated. For the machines with high precision, the final grinding stage is well set up so that there is no significant heat generation.
Types:
The grinding machines include:
• Belt Grinder: It is a method for processing material and metals. It is versatile as it is suitable for many applications like deburring, fishing, stock removal, etc. The bench grinder is secured to a floor stand or bench having two different wheels for fishing and roughing operations. The various tools are included for shaping the pieces.
• Cylindrical Grinder: It has both centreless and centre types. The various pieces are accepted as these are rotated via the central axis. The grinding wheel and workpiece are rotated simultaneously. Internal diameter, outside diameter, and centreless grinders are in the categories of cylindrical grinders.
• Surface Grinder: You may have seen the surface head which moves forth and back to cut the smooth surface from the workpiece. It removes a huge amount of extra material to shape it well according to the industrial requirement. Surface grinders consist of CNC control or are sometimes operated manually. The proper surface grinder will consist of a chuck, abrasive wheel, rotary table, etc.
• Cutter and Tool Grinder:It can operate Drill Grinding Machine or some other applications.
• Jig Grinder: It has many uses to finish jigs, fixtures, dies, etc. The main function of the jig grinder is grinding pins and drill out bushings. It is also applicable for complex grinding of a surface for millwork.
Daily Maintenance:
Grinding machines need specialised personnel for quick repair and maintenance work. Regular inspection of grinders is mandatory to keep them in good condition for a long time.
1. After finishing its operations, it must be oiled and wiped clean on the special parts i.e., sliding parts.
2. Clean the wastes from the grinders.
3. Anti-rust oil would be friendly to keep important machined joints in proper maintenance.
You may also point some important considerations about grinding machines. The balance of the wheel must be checked and choose the suitable wheel as per workpiece choice with its hardness. Check whether the grinder is having a smooth operation or not. For more such info, you may check its maintenance routine.