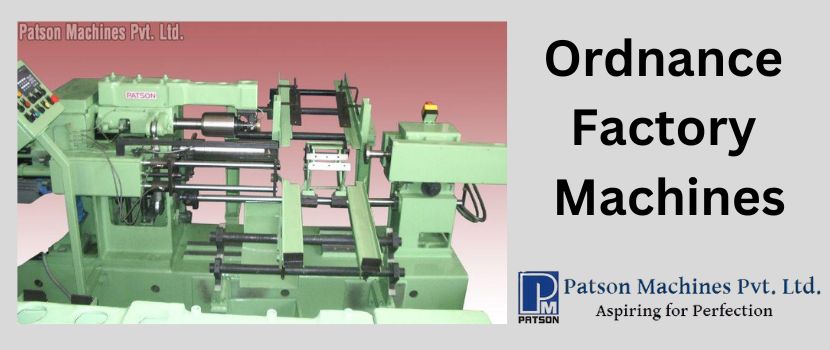 An industrial organisation operating under the Department of Defence is the Ordnance Factories Board (OFB). It is necessary for the creation, manufacture, testing, logistics, research, and marketing of products. These products are in the fields of land, air, and marine systems.
This article includes machines that can be on your wishlist while searching for an ordnance factory machines supplier.
Swaging Machines
Swaging machines shape workpieces by pressing them into dies to change the diameter of tubes or rods. Swaging involves putting the tube or rod into a die or dies. These are then hammered together to shrink the metal's diameter. You won't lose material during the swaging process; just the shape of the material will change. Machines for swaging precious metals are frequently utilised since there is no material loss.
Swaging and swaging machines are frequently thought of as cold-forming processes. However, they can occasionally be used as hot-forming processes. Tube swaging and rotary swaging are the two main kinds of swaging machine operations.
Special Purpose Drilling Machines
One of the most typical pieces of equipment in a machine shop is a drill press or drilling machine. A drill press is a device useful for advancing and rotating rotary tools into a workpiece. Although the drill press is usually for drilling holes, it can also be useful for a variety of machining processes. It is possible when equipped with the right tools.
Drilling, reaming, tapping, counterboring, countersinking, and spot-facing are the most typical machining operations possible on a drill press. There are many various drilling machine configurations and types offered by the Ordnance Factory Machine Suppliers. However, most drilling machines have four major groups: upright sensitive, upright, radial, and special purpose.
Broaching Machine
You can remove metal with this machine. It is possible by pushing or dragging a cutting instrument, broach, that follows a predetermined path.
The machine's tool is either drawn or pushed through the surfaces to be completed in a broaching operation. Finishing is possible on interior or external, flat or curved surfaces using broaching. Only around 6mm or less of stock is possible to remove by broaching.
A work-holding fixture, driving system, adequate supporting frame, and a broaching tool make up a broaching machine. Even though there aren't many individual elements, the design can take many different forms.
The most basic machine tools are broaching ones. A broaching tool, a work-holding fixture, a drive mechanism, and an appropriate supporting frame make up a broaching machine. Despite the small number of elements, numerous design iterations might be useful.
Horizontal and vertical broaching machines are the two main varieties. In addition to these common varieties, there are also continuously running unique machines. Depending on the need for production, machines of both the horizontal and vertical varieties may have one or many rams. Dual-ram models are set up so that one ram is cutting while the other is returning.
The Ordnance Factories Board has expanded continuously but sporadically throughout time, leading to its current structure. The factories are mostly in response to demands for increased defense readiness.